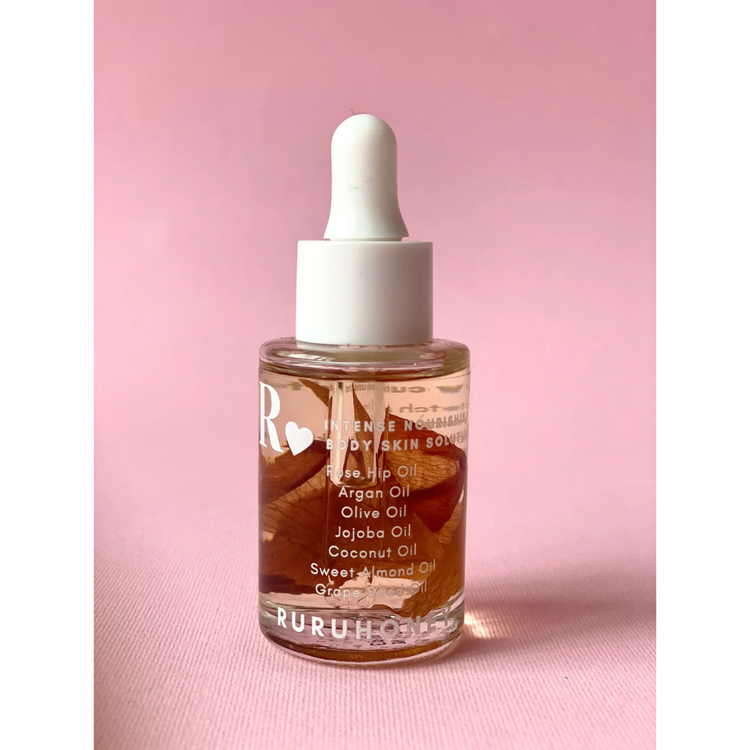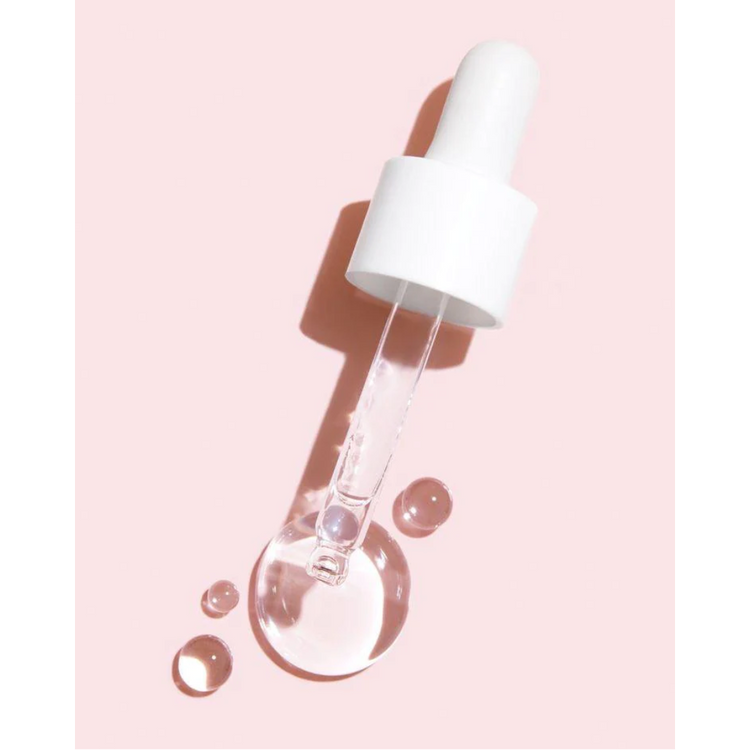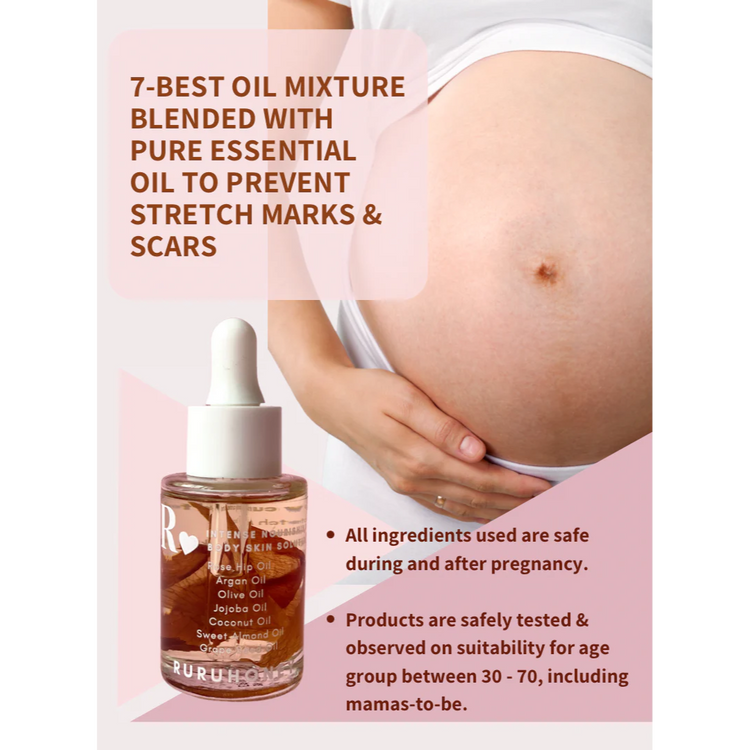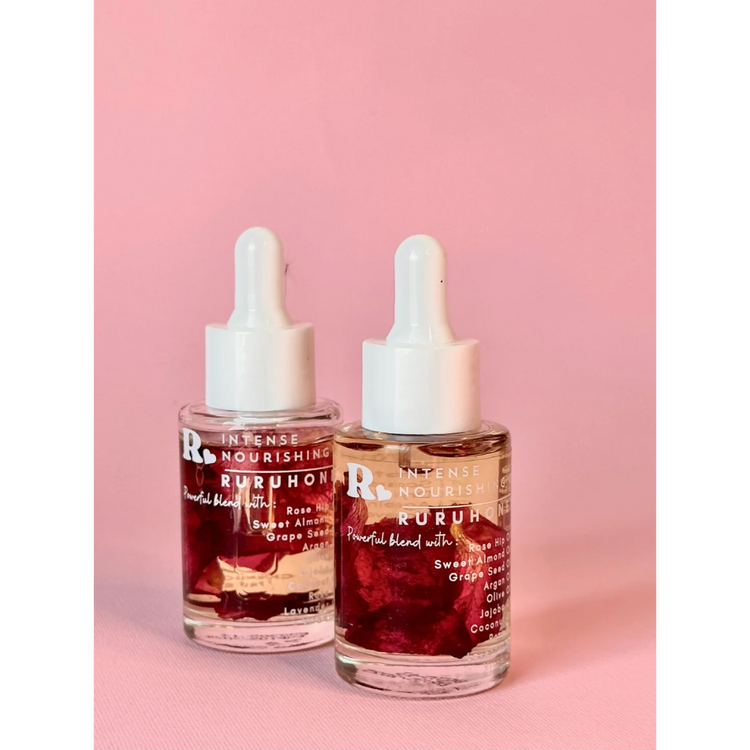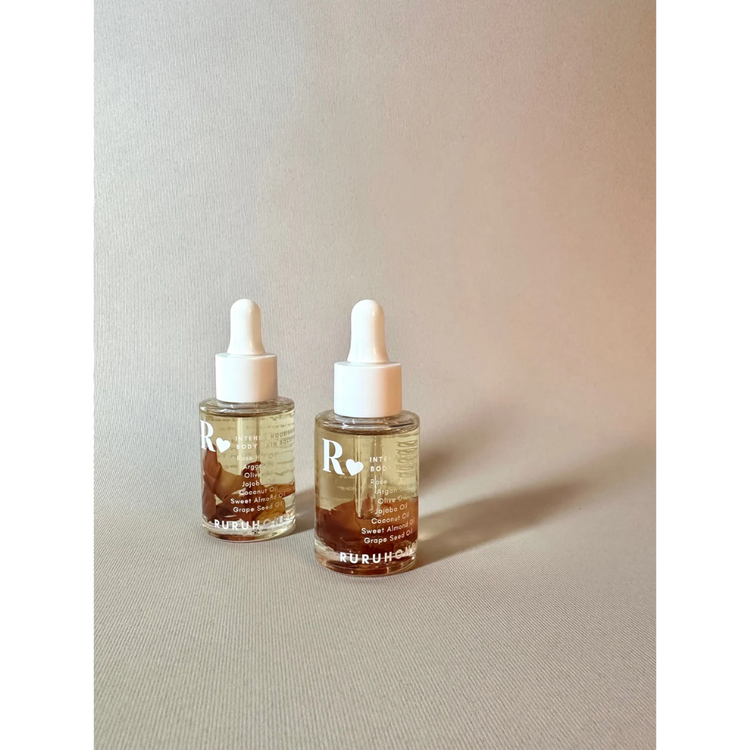 RuruHoney Intense Nourishing Oil 30ml
RuruHoney Intense Nourishing Oil 30ml
29
people are viewing the right now
6 sold in last 24 hours
Fast 1-2 day
Shipping
Secured
Payments
Easy
Returns
100%
Authentic
About the plant-derived luxurious Oil 
Formulated with a powerful blend of ethically sourced botanical oils and deeply restorative nourishing nutrients.
This lightweight and fast absorbing oil is powered by nourishing ingredients to strengthen, tone and improve the appearance of scars and stretch marks while promoting softer and more supple skin.
Our plant-derived luxurious treatment oils are made with LOVE to cater to individuals who are constantly looking for natural & safe ingredients that helps to address visible signs of ageing and protects the complexion from environmental aggressors banishing dryness instantly. 
Made WITHOUT parabens, artificial colors and fragrance. Formulated with  aromatherapy oils of Rose & Lavender that help rejuvenate senses, mind calming and improve overall health & spirit. 
*Suitable for pre & post natal. Safe for ALL MAMAS & MAMAS-TO-BE. 
Specially Curated for:-
Stretch Marks
Scars
Dehydrated Skin
Ageing Skin
Uneven Skin tone
* products are KKM/MOH notified.
Delivers rich hydration to skin
Nourishes and gives skin a luminous effect.
Prevents stretch marks & scars
Protects skin against environmental aggressors.
Relieves itchiness from dry skin
Relaxes & Soothes
Can be used on all body parts
Suitable for pre & post natal
* Products are KKM/Ministry of Health notified
The Oil
Formulated with a POWERFUL BLEND of ethically sourced botanical oils and deeply restorative nourishing oils. This lightweight and fast absorbing oil intensely HYDRATES skin + reduces appearance of stretch marks & scars while promoting SOFTER and SUPPLE skin.
RURUHONEY Intense Nourishing Oil products are made with ALL NATURAL ingredients & LOVE to cater to individuals who are constantly looking for natural & safe ingredients.
Active Ingredients
The Plant-Based MAGIC inside:
A luxurious Intense Nourishing Oil that's enriched with the finest botanical ingredients, loaded up with vitamins A, B, C, and E; omegas 3, 6, and 9; all for added skin benefits and barrier protection. It leaves skin feeling nourished and smooth after using it for once.
Caprylic/ Capric Triglycerides, Vitis vinifera (Grape) Seed Oil, Cocos nucifera (Coconut) Oil, Prunus amygdalus dulcis (Sweet Almond) Oil, Olea europaea L. (Olive) Oil, Simmondsia chinensis (Jojoba) Oil, Triolein, Argania spinosa (Argan) Oil (Morocco), Rosa canina (Rosehip) Seed Oil, Rosa damascena (Rose) Oil, Lavandula angustifolia (Lavender) Oil, Caprylyl Glycol, 2-Phenylethanol (Italy) and Tocopherol.
Rose Hip Oil
Rosehip oil contains a high percentage of essential fatty acids, omega 3 & 6, vitamin A and C. Soothes inflamed skin conditions such as burns, stretch marks, wrinkles, dark spots & uneven skin tone. Helps fight aging skin, reduces itchy, dry and irritated skin.
Argan Oil
Rich in vitamins A, E and monounsaturated fatty acids, protects skin against environmental damage. Smoothes and softens skin.
Olive Oil
Packed with healthy vitamins, fats & antioxidants and these components can contribute to healthier looking skin. Fights oxidative stress & reduces signs of ageing.
Jojoba Oil
Repairs damaged skin cells, fights premature ageing. Flicks signs of ageing, fine lines and wrinkles to the curb.
Coconut Oil
Coconut oil is highly saturated oil that softens, moisturises and soothes dry skin. Eradicates bacteria from skin, clearing up any infections and inflammation.
Sweet Almond Oil
Softens and nourishes ageing or damaged skin. Super moisturising + hydrating. Helps with itchy or irritated skin
Grape Seed Oil
known for it's anti-inflammatory , antimicrobial and antioxidant properties. Rich in vitamin E, diminishes the sun's harmful effects. Helps fading scars and tighten skin
Rose Essential Oil
Effective against a wide range of microbes due to its antibacterial & antifungal properties. Helps with relaxation, improves mood & healing of burns & cuts.
Lavender Essential Oil
Lavender aroma calms the mind and improves overall health, mind and spirit. Helps to equalise the skin's pH balance leaving your skin looking supple. Enhances both physical and emotional health.
Vitamin E
Vitamin E acts as an antioxidant, helping to protect cells from the damage caused by free radicals.