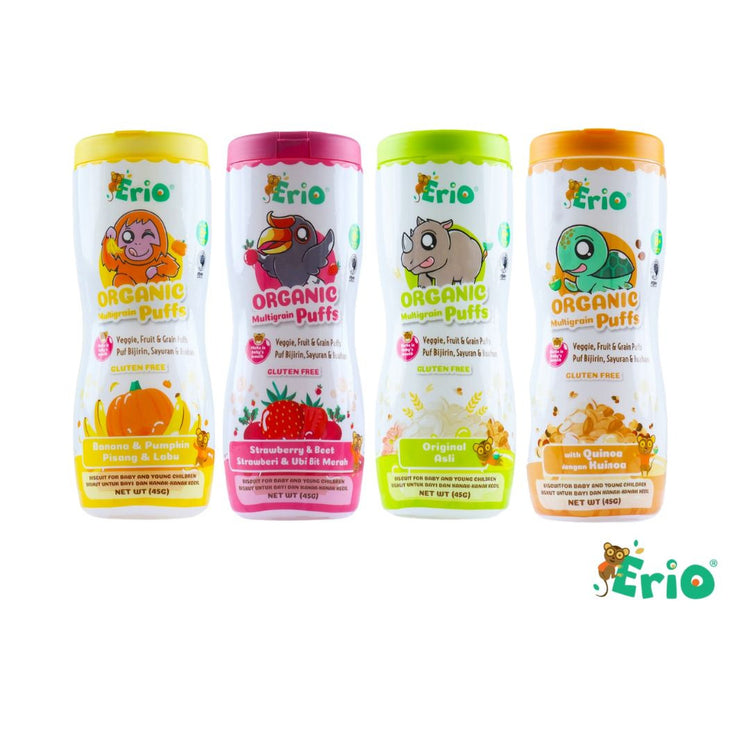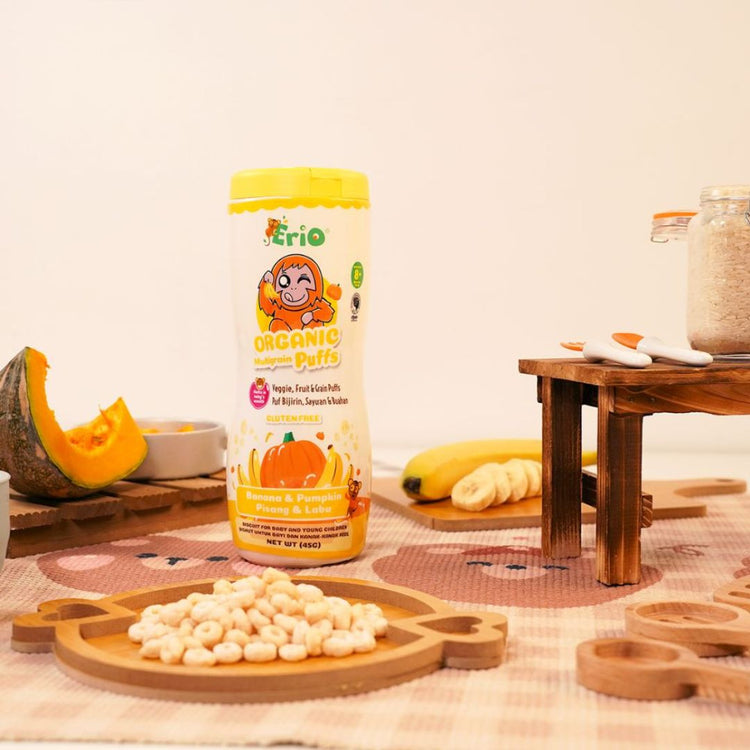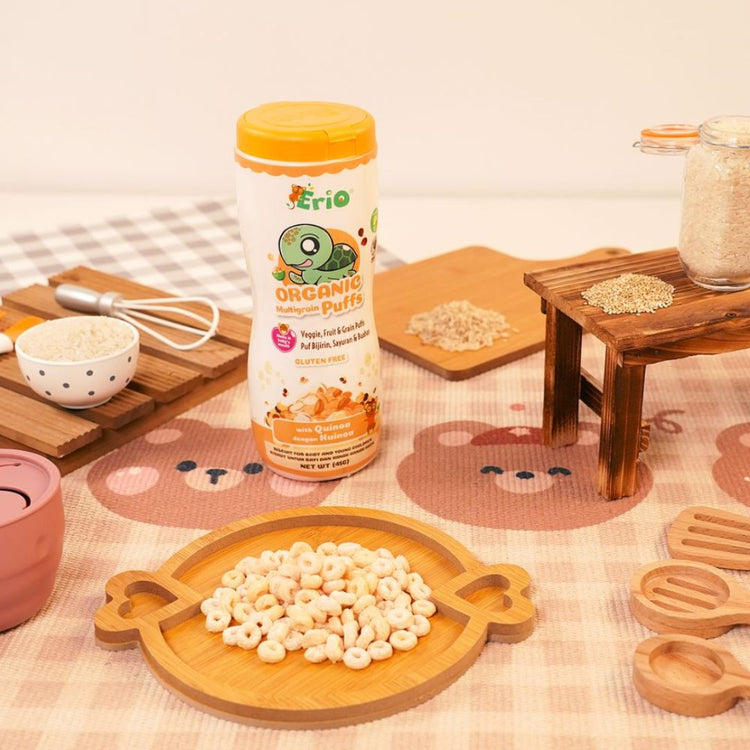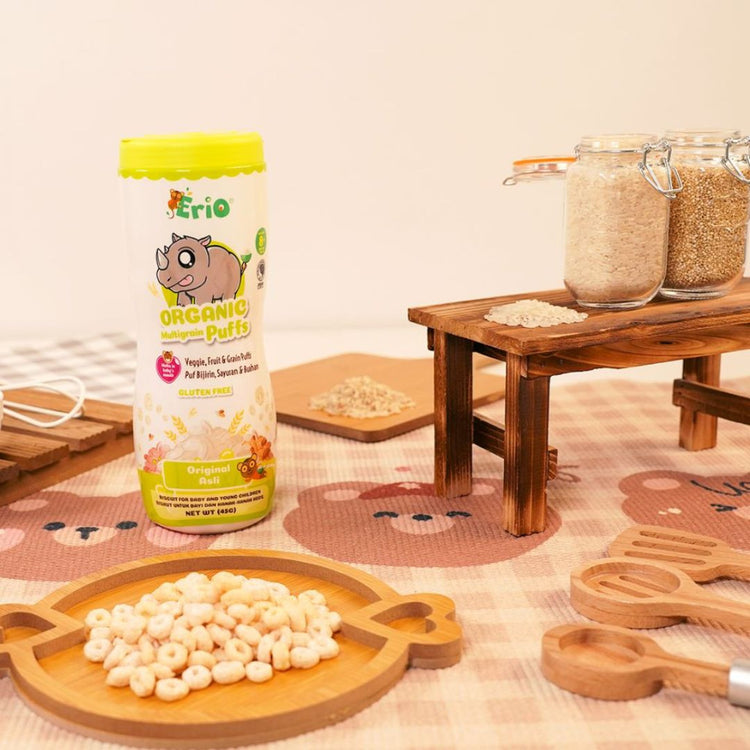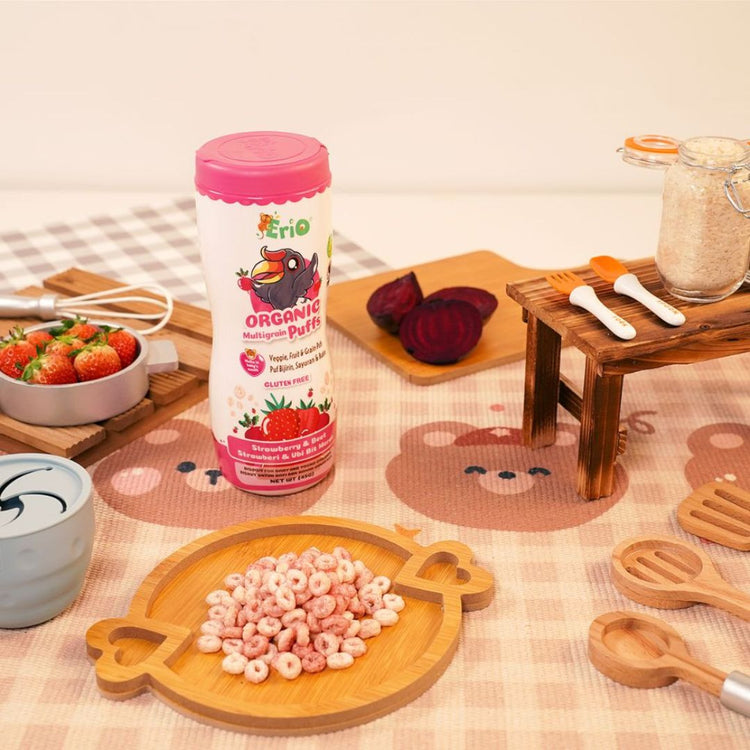 Erio Organic Multigrain Puffs 45g (8m+)
Erio Organic Multigrain Puffs 45g (8m+)
21
people are viewing the right now
6 sold in last 24 hours
Fast 1-2 day
Shipping
Secured
Payments
Easy
Returns
100%
Authentic
Original
Quinoa
Banana Pumpkin
Strawberry Beet
About Products :
Our organic multigrain puffs are a nutritious and tasty snack for babies and toddlers. Made with a blend of whole grains, veggies and fruits, these puffs provide a source of protein, fiber, and essential nutrients. They have a soft, melt-in your- mouth texture that is perfect for little ones learning to self-feed, and a natural flavor that will appeal to even the pickiest eaters.
Gluten Free
No Added Salt & Sugar
Dairy Free
Suitable for Vegetarian
Safety Advise :
An adult should always be with the baby during feeding time.
Direct Consumption. Shall not feed through milk bottle.
Conditions :
Due to natural variations in sources colours and textures may vary from batch to batch.
Certifications :
Ingredients
Original
Organic Japonica White Rice, Organic Japonica Brown Rice, Organic Red Rice, Organic Apple Juice Concentrate, Vitamin B1
Banana & Pumpkin
Organic Japonica White Rice, Organic Japonica Brown Rice, Organic Red Rice, Organic Apple Juice Concentrate, Banana Puree, Organic Pumpkin Powder, Organic White Quinoa, Vitamin B1
Quinoa
Organic Japonica White Rice, Organic Japonica Brown Rice, Organic Red Rice, Organic Apple Juice Concentrate, Organic White Quinoa, Vitamin B1
Strawberry & Beetroot
Organic Japonica White Rice, Organic Japonica Brown Rice, Organic Red Rice, Organic Apple Juice Concentrate, Organic Beetroot Powder, Strawberry Powder, Vitamin B1
Flavour

Original,

Quinoa,

Banana Pumpkin,

Strawberry Beet